Whether you are looking for an awesome pool table light for a new room or are looking to replace your existing light fixture: this list of 19 cool pool table lights will will hopefully have an option perfect for you.
Worst case scenario if you can't find one on this list you love? We have 100's of other cool billiard lights to choose from on our site.
We've gone ahead and gathered a list of the 19 coolest billiard lights on the market right now. Out of these, we hope you'd find a few that appeal to you and are viewed as stylish and fit your design style needs in your pool table room. The list is in no particular order, so let's just get start with the first on the list of some seriously unique pool table lights.
Matte Black 3 Light Pool Ball Pool Table Light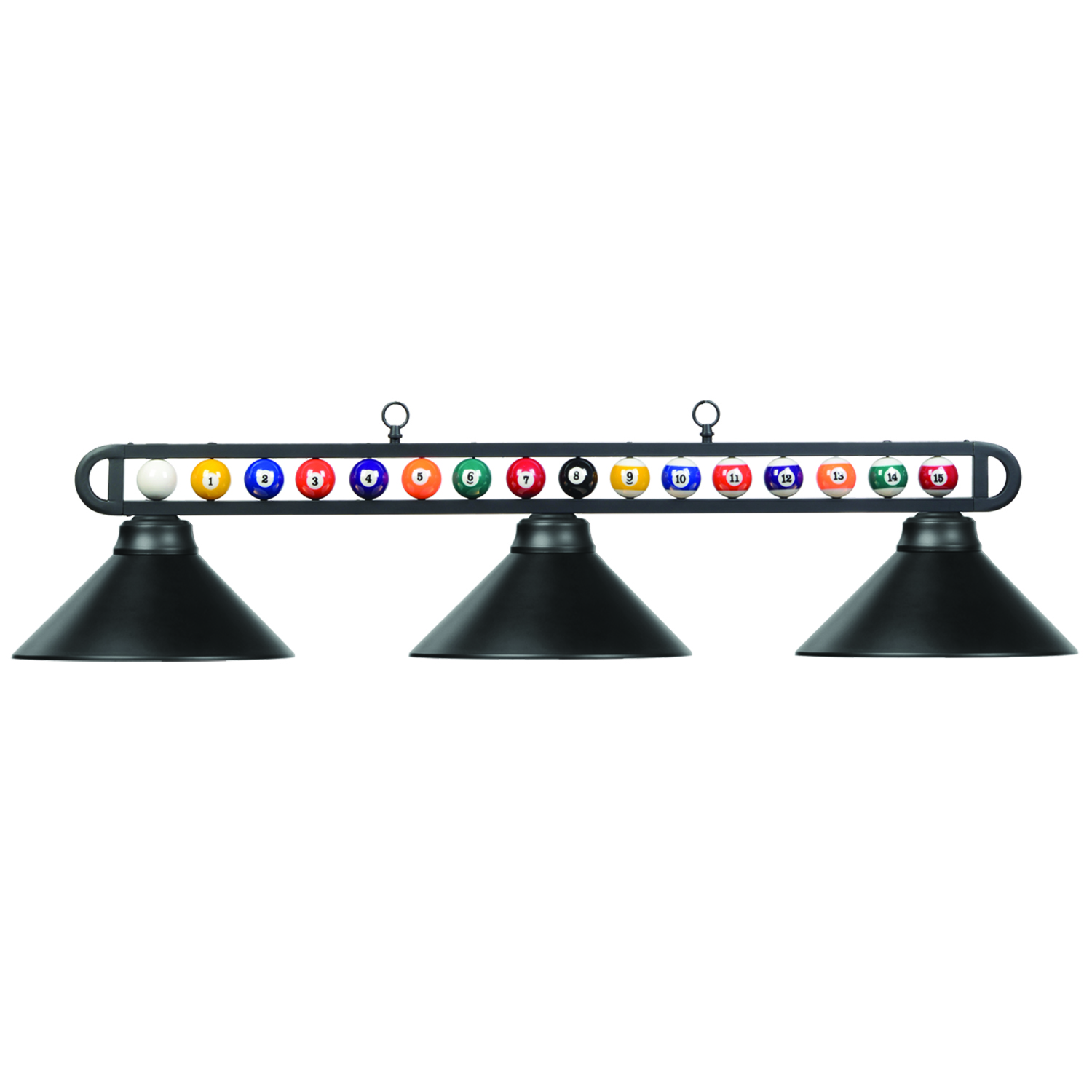 This light gives a classic yet modern and sleek feel to any billiards room. We love this one because it fits perfectly in with the atmosphere of a typical pool room but also is simple and sleek to fit into a lot of simple and classically designed rooms. Click here to learn more about this light.
50″ 4 Light Stained Glass Billiard Light Fixture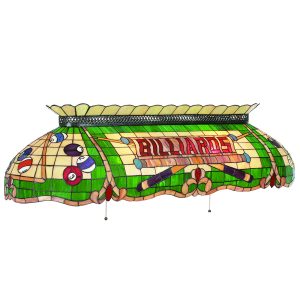 Still a billiards themed light, but this one is tiffany styled. This fits perfectly in any antique or even classic styled billiards room. We love this one because of the stain glass work and how magnificently stunning it can make a room just by the addition of it above a pool table. Click here to learn more about this light.
Coca-Cola Pool Table Light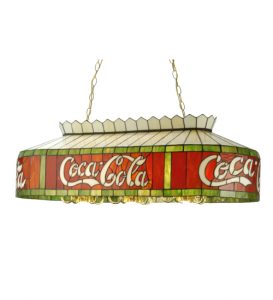 How can you not love a Coca-Cola pool table light?! An official Coca-Cola tiffany styled pool table light is up for anyone who is into the style. It can be found in any billiards room which wants a light that people talk about and are amazed by. We actually have multiple different types and styles, be sure to click here to check them all out.
48″ Pool Hall Billiard Light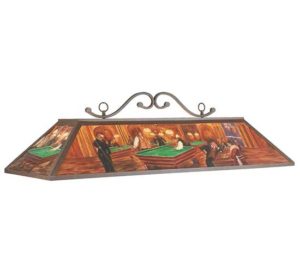 We find this light to not just fit in pool halls, but really any room that is full of billiards lovers. More-so, this light is great for those who enjoy a night (or a few) out in pool halls and pubs which offer some quality pool time. This is certainly a unique pool table light and is for any billiards enthusiast. Click here to learn more about this light.
3 Light Retractable Pool Table Light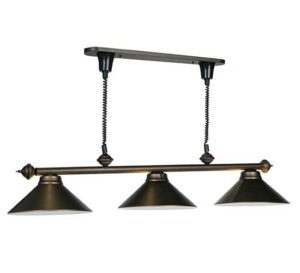 Need a light that can be pulled down when needed and put back up again when not in use? This retractable pool table light does just that, and it's a rare thing to find a billiard light that pulls down like this. For anyone with a need for a retractable pool table light, this is surely an awesome choice. Click here to learn more about this light.
3 Light Pool Table Light with Fan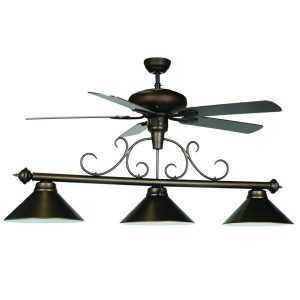 Maybe you don't need a retractable light, but you'd like a fan. This light is not only hooked up with a stylish set of 3 lights, but it also has a fan attached. This is one of the most popular pool table lights with a fan around, and it's a pretty neat combination that you don't see often. Click here to learn more about this light.
3 Shade Pewter Metal Contemporary Light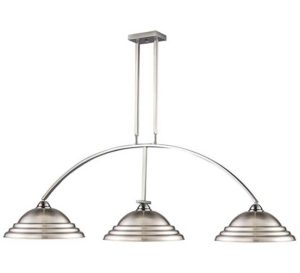 Enough of the classic and antique looking lights, here is a really sleek and contemporary billiard light that is simply stunning. It's stepped metal shades matched with its rounded bar gives it a look of the century. Click here to learn more about this light.
48″ Acrylic Sharp Shooter Pool Table Light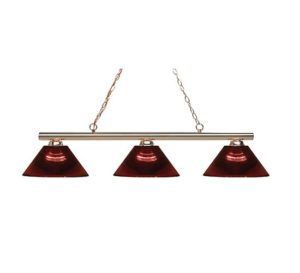 It's shades are made of acrylic, available in multiple different colors, and is a simple light that fits perfectly in a billiards room setting. Sure, it's nothing like a tiffany light but it is a simple bar styled light that is insanely popular. Click here to learn more about this light.
Billiard Rack Pool Table Light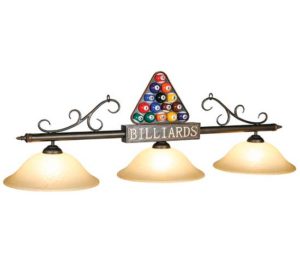 Last but certainly not least we have this classic billiard rack light, which is a seriously perfect fit above any pool table. We know some other lights here are billiard specific, but this one might just appeal to you more (or vice versa). We love this one simply because it is so related to pool we had to add it to the list. Click here to learn more about this light.
We hope you fancy at least ONE of these cool pool table lights, let alone two or more. But maybe they don't fit you or your rooms design or really aren't that unique to you, and that's okay. Thankfully, we have 100's of other spectactular pool table lighting options. Out of those, you've got to love one that you couldn't live without.