Official Pool Table Lighting Buying Guide
Families, couples, or serious players should choose their lighting with some guidance. Without proper billiard lighting you will end up with shadows, under-lit games, and a range of other issues that can arise from improper pool table lighting in your billiards room. Good lighting doesn't stop there either, it will also add a nice touch to your room. In order to choose a light that will illuminate your billiards table properly, listed below are the main things you need to keep in mind while purchasing a new light.
---
What you Want to Achieve With a Billiard Light
The purpose of a billiard light is to provide adequate lighting on your tables playing surface. The goal of a pool table light is not to illuminate the surrounding room, players, or floor. Instead, you are looking for a light that will do a superb job at illuminating your pool table. This is achieved mostly by proper placement and good light length which we will go over below.
---
What Size Light Will Best Fit my Table?
As we always advocate, you have many options when it comes to the length of light you should be choosing. While the below chart is mostly a recommendation, we highly suggest you try staying as close to the guidelines as possible to get best use out of your lights.
| | |
| --- | --- |
| Pool Table Light Sizing Chart | |
| Pool Table Size | Recommended Pool Table Light Size |
| 3.5' x 7' table | 3 lights or 35'' to 55'' in length |
| 4' x 8' table | 3 to 4 lights or 40'' to 60'' in length |
| 4.5' x 9' table | 4 to 5 lights or 60'' to 75'' in length |
| 5' x 10' snooker pool table | 4 to 5 lights or 65'' to 90'' in length |
| 6' x 12' snooker pool table | 5+ lights or 90'' to 110'' in length |
---
Things to Remember While Hanging Your New Light
Hanging your new pool table light is probably one of the more technical tasks throughout this entire process. You don't want to hang your light too low where you end up hitting it with a cue stick. But, at the same time, you don't want it too high where you are blinded by the light. The goal is to get it at a perfect height, and this is typically achieved by hanging the light at a minimum of 40″ above the bed of the table but; not more than around 70″.
Along with the height, your light should be above the middle of your pool table. You might hear a lot of "a little to the left or right", but ensuring your light is spot on centered in the middle is paramount to proper light distribution on the bed of your table. If it's off and unevenly placed, it could result in unwanted shadows and improper lighting in some areas of the table. This is where we recommend a professional to come in and install the light (especially if the light is being installed after your pool table is in place).
Advice on Styles
There are many different styles of pool table lights out there. Lets talk briefly about the common ones:
Tiffany Styled
This style is also known as stained glass lights. They offer a great antique and custom look to any billiards room, which surely matches for any classic game room.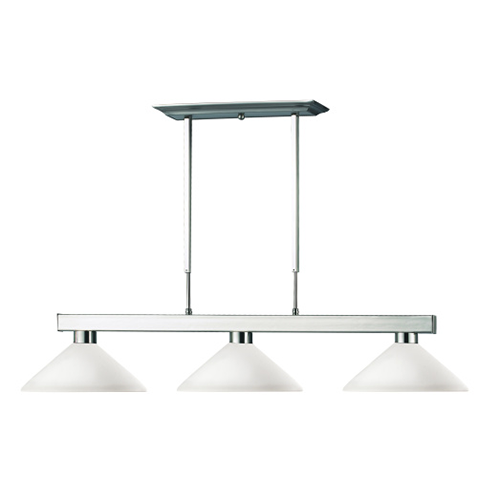 Contemporary Styled
While some might not know the difference between modern and contemporary, contemporary is more of current styles where-as modern is a set style. If your room is built on current contemporary styles, contemporary styled lights will fit perfectly in your room.
Modern Styled
This style is exactly what it sounds like, modern. Classic modern styles can be implemented into your modern themed billiard room through a modern pool table light.
Advice on Types
There are two main types of billiard lights that you will find; single shade or multi-shade lights. Let's talk about them:
Single Shade
A single shade light is exactly that, it has just one shade. Now, one shade does not mean one light, it simply means there is one shade but there can be multiple light bulbs in the fixture.
One piece of advice that we always advise people when choosing a single shade light is that they can sometimes require extra support when being hung (either by hanging on a stud or building a cross brace). This is caused by less equal weight distribution from only having one chain or rod connecting the light to the ceiling.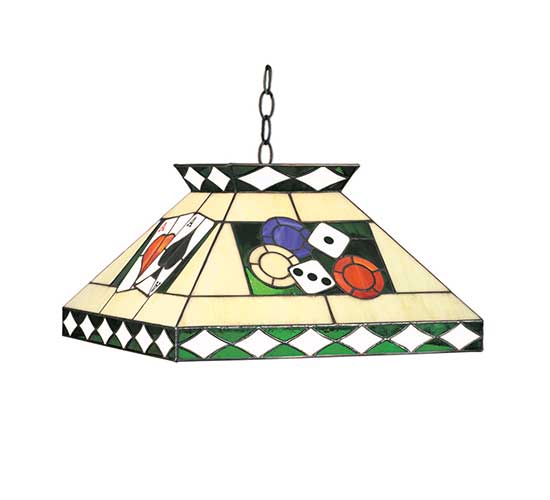 Multi-Shade with Bar
You can have multi-shade lights with 2, 3, 4, 5 or even 6 shades on it. They often hang from a chain or a rod, which is adjustable to the desired length. Since these lights typically hang from more than one chain / rod, they offer better weight distribution from its hanging point.
Ready to pick out your dream pool table light? Shop 100's of pool table lights now!